I'm 5'9″ tall, 130lbs, with a large bust and a long torso. Needless to say, regular one piece swimsuits don't fit me length-wise. After numerous unsuccessful try-on sessions at four different local stores, thankfully, I found Hapari swimwear.
A month before our trip to Turks and Caicos, I found Hapari swimwear online. I ordered numerous pieces so I'd have options during our trip.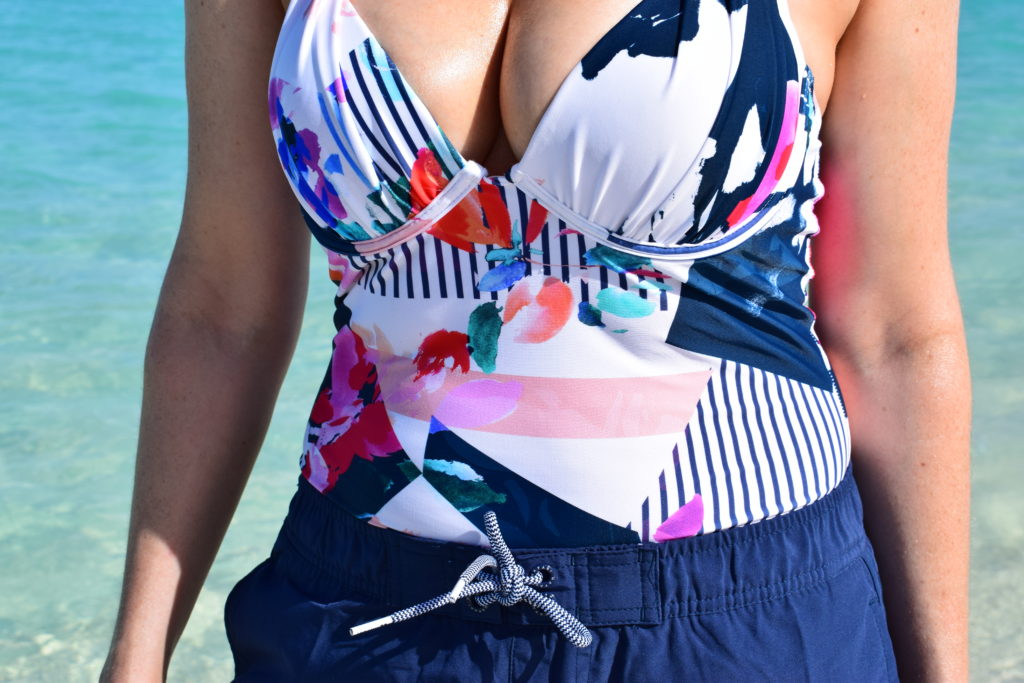 Hapari Push-Up Tankini Top
I chose this NautaBloom Push-Up Tankini Top. I'm a 32DD and I ordered the size Small (4-6 US) for reference. I love that it has an underwire! Let's just say this push-up tankini boosts more than just my confidence.
With a slimming silhouette and push-up support, this top will not disappoint. Bright pink, navy, and orange abstract designs shine on top of a stark white background.
Hapari Navy Tummy Tuk Cheeky Bottom
I paired the above print tankini with the Navy Tummy Tuk Cheeky Bottom in a size Small. This combination makes for a perfect color coordinated look. Below is a view of the front and back.
Hapari Navy Beach Shorts
I also wore my new favorite Navy Beach Shorts, in a size Small, over the top. These beach shorts have pockets and my room key never fell out.
I love them so much that I bought a second pair of Beach Shorts in black.
Another thing I liked is that my order arrived very quickly. I placed my order on a Saturday night, and I received my order the following Wednesday. So, shipping only took 4 days.
PREVENT SUNBURN IN TURKS AND CAICOS
I wore this Organic Mineral Tinted Face Sunscreen everyday during our trip in Turks and Caicos. Therefore, I didn't sunburn. TIP: You can also contour with it since its so blend-able!