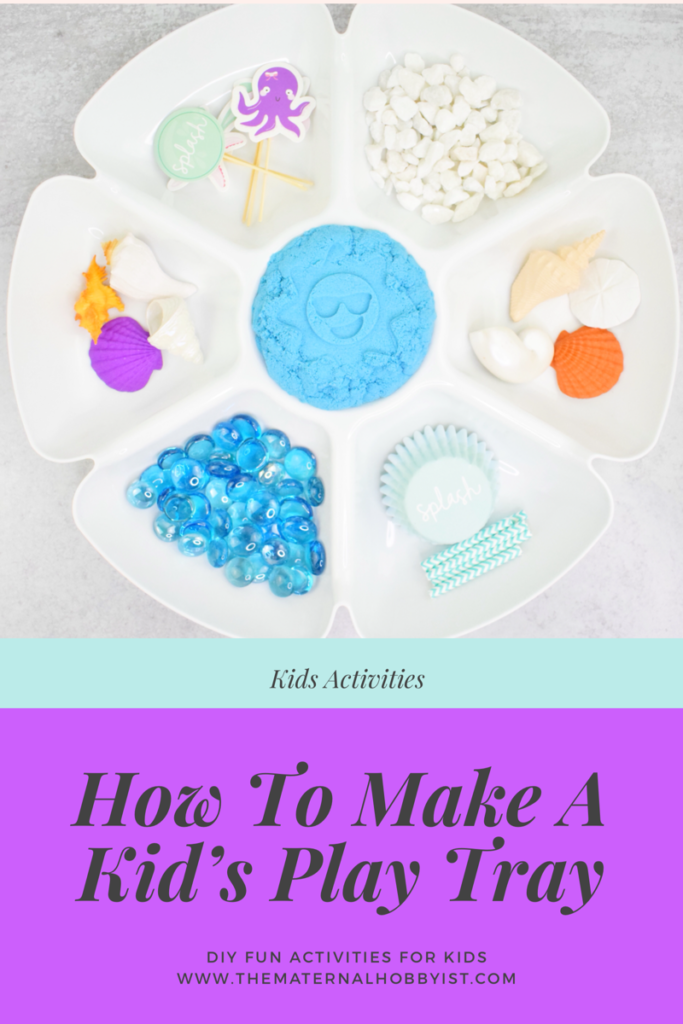 If you're looking kids activities and play-based learning ideas, look no further! The possibilities are endless with these play tray kids activities. You can use things you have around the house, or you can buy a few staple items and reuse them with different play tray themes.
Play Tray Kids Activities
Scroll down to see the video for how we made this "Splash" themed play tray.
WHAT YOU NEED:
Play Tray (We found our at Dollar Tree)
Blue Glass Gems (We found our at Dollar Tree)
White Rocks (We found our at Dollar Tree)
INSTRUCTIONS:
1.) Cut paper straws into thirds. and place into a section of the tray.
2.) Add Cupcake Liners to the same section.
3.) Assemble cupcake toppers and place in a new section.
4.) Add blue glass gems to a new section.
5.) Add white rocks to the opposite section.
6.) Add Seashells from TOOB, 4 in each section.
7.) Stamp the CoolSand for a fun invitation to play.
8.) Present your child with any rules you may have. Our rule is that the sand must stay inside the sensory bin or the bin will go in time-out.
9.) We use the IKEA Flisat table and I present an empty Trofast bin on one side, and set the play tray on top of the table top side next to it. Miss 3 plays for up to an hour with these play trays.
MORE FUN ACTIVITIES FOR KIDS:
If you'd like to switch out the sand for DIY Snow Dough, try this easy recipe for the Pineapple Snow Dough and set up a fruity play tray theme.
One of our most popular kids activities is this Blooming Puddle Paper Flowers activity.
EASY CRAFTS FOR KIDS:
If you'd like to try some easy crafts for kids, try this Wax Paper Suncatcher craft.
Disclosure: Some of the links in the post above are "affiliate links." Therefore, if you click on a link and purchase the item, we will receive a small commission. Regardless, we give our promise that we only recommend products or services that we use personally. Above all, we believe this adds value to our readers.