Would you like to keep your kids busy with play-based learning during winter break? Let's build our own quick and easy catapult and learn about levers with this snowball catapult STEM activity!
Build this Easy Catapult with popsicle sticks, a spoon and rubbers bands
We first ran into this snowball catapult STEM activity at STEAM Ahead. (They recently opened their kid's activity center off of Rainbow curve in Bentonville, Arkansas. This place is a must for children ages 2-12 years! They will have hours of play-based learning fun.)
We learned that a catapult is a simple machine design that uses a lever.
This particular catapult design is easy and the spoon holds the "snowballs" pretty well. You only need 4 rubber bands, 6 popsicle sticks, and as many pom-poms as you want.
Okay, let's do this!
WHAT YOU NEED:
*The Maternal Hobbyist Tip: If you don't have pom-poms, you can substitute crumpled paper or even use mini marshmallows for an edible treat.
Snowball Catapult STEM Activity Instructions:
1.) First, stack 4 popsicle sticks.
2.) Second, secure each end with a rubber band. Wrap each rubber band around several times to make it nice and secure.
3.) Next, place a popsicle stick under the spoon handle with the spoon facing up. Line up the end of the popsicle stick with the handle end of the spoon.
4.) Secure a rubber band around both the spoon handle and the stick together.
5.) Then create a stack starting with the remaining popsicle stick on the very bottom. Add the 4 sticks perpendicular, then the spoon/stick on the very top.
6.) Now, use the remaining rubber band to secure these all together by wrapping the rubber band around the bottom securely. Stretch the last loop around the right side of the perpendicular stack like this.
7.) Then do the same for the opposite side by wrapping one of the rubber band loops around the left side like this.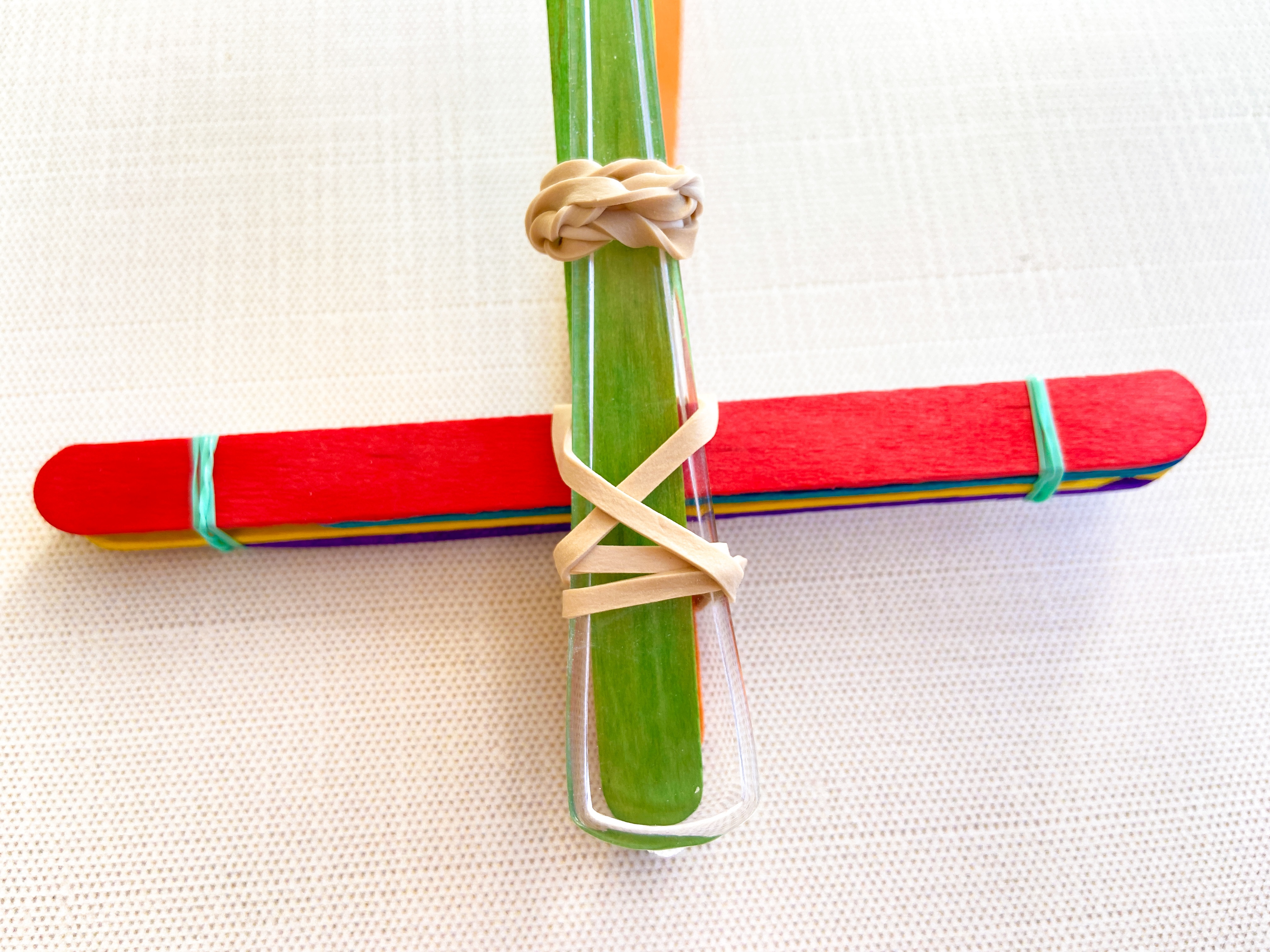 8.) Finally, it's time to launch the "snowballs!" Hold the bottom stick with one hand while you place the pom-pom on the spoon and push down simultaneously with the other hand. Now slide your fingers off and watch it FLY!
My 5-year-old loved doing this Snowball Catapult STEM Activity! She ran to show daddy how it works and now he wants one of his own so they can have a snowball fight. Sounds like a fun winter break activity to me!
MORE FUN ACTIVITIES:
Try this FREE Blooming Puddle Paper Flowers activity today! Simply print, color, cut and fold according to the instructions. Then, watch the magic happen.
Disclosure: Some of the links in the post above are "affiliate links." Therefore, if you click on a link and purchase the item, we will receive a small commission. Regardless, we give our promise that we only recommend products or services that we use personally. Above all, we believe this adds value to our readers.