Have you ever wanted to make an extra special breakfast with your kiddos? Well this is it! Yes, it's rainbow unicorn toast with sprinkles on top, but the "frosting" is actually cream cheese. I discovered this magical creation on Hello Wonderful and I had to share it!
Gluten Free Unicorn Toast
Since we're Gluten Free (wheat allergy) We made this gluten free version.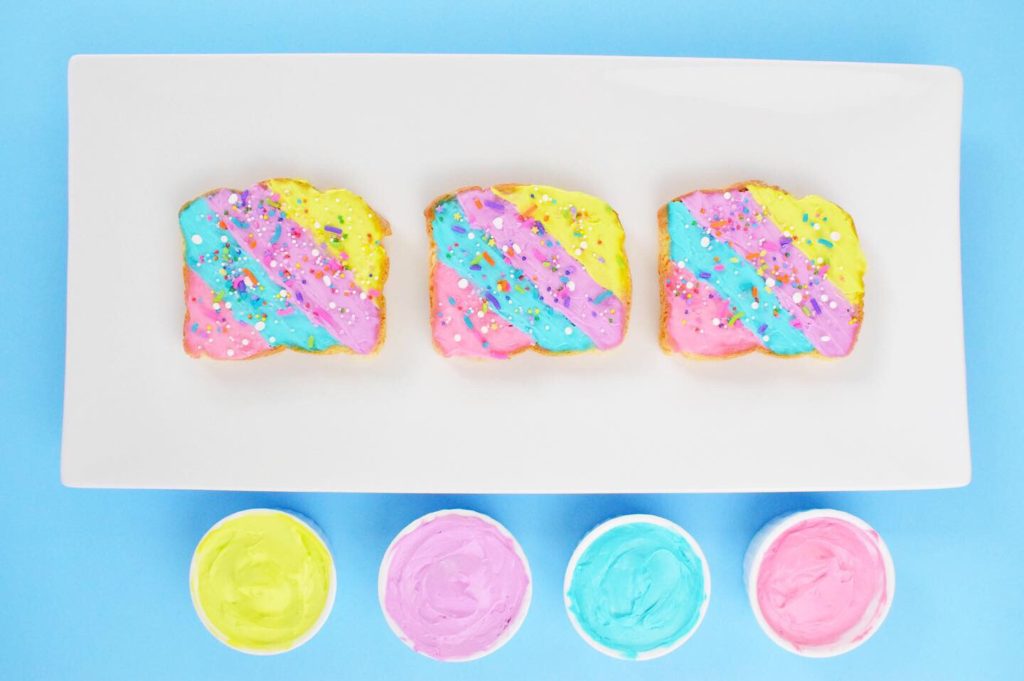 Ingredients:
Gluten Free Bread (I've tried countless brands and Franz GF Seven Grain bread from Costco is my favorite)
Cream Cheese
Neon Food Coloring plus yellow food coloring (you can also use natural food dyes)
Sprinkles – We chose Gluten Free "Unicorn Love" Sprinkles by Cake Mate
Honey (optional)
Unicorn Toast Instructions:
1.) Divide cream cheese into small bowls and add a couple of drops of neon food coloring and mix each color.
2.) Toast the gluten free bread.
3.) Surprise your kiddo with this magical breakfast activity and let them frost the cream cheese colors onto their toast.
4.) Add magical sprinkles! and you're done!
(Optional: We took Agnes's advice from Hello Wonderful. Her son prefers a drizzle of honey to cut down on the tang of cream cheese. Miss 3 liked the drizzle of honey as well.)
If you haven't tried making Unicorn Toast before, I highly recommend giving this a try! This is definitely one magical breakfast your kiddos will never forget.
Homemade Strawberry Jam
If you'd like to try making Homemade Strawberry Jam, click here for the recipe.
Disclosure: Some of the links in the post above are "affiliate links." Therefore, if you click on a link and purchase the item, we will receive a small commission. Regardless, we give our promise that we only recommend products or services that we use personally. Above all, we believe this adds value to our readers.